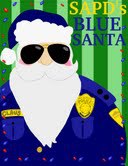 We are partnering with the San Antonio Police Department this Christmas to collect toys for the Blue Santa program and need your help.
The Blue Santa program started in 1976 in San Antonio when officers from the Community Relations Unit adopted some needy families in our community at Christmastime. The officers gave these families presents for their children as well as groceries to prepare Christmas dinner. Thanks to their uniforms, they became known as "Blue Santas."
The program became an official project of the SAPD in 1986 and has grown ever since! Officers identify families in their districts who could benefit from the program and submit their information to Community Services for processing. Food, toys, and monetary donations are collected and cash is used to purchase additional toys and food items that may be needed.
Officers and volunteers then assemble gifts, wrap and label them to be sure the appropriate gift is delivered to each child. The officer who submitted the family's name enjoys the fun of delivering the packages to the families fostering excellent relationships between the community and SAPD. The "Blue Santa" accompanies the officer making the delivery whenever possible.
We chose this project due to the large number of SAPD officers we are honored to have as patients in our office!
At Tooth Acres, we are adding an extra incentive to participate! When you bring in a new, unwrapped toy by Friday Dec. 13th, you will receive a $25 credit in our office as a thank you for participating. This credit can be used toward any service or product in our office! If you have questions don't hesitate to ask.
Let's gather a HUGE box of toys to help make the season brighter for some families in our community this season!